A Chamber Concert; Emerging Artists Series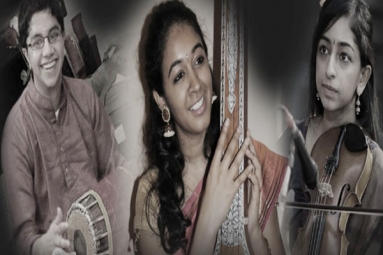 About this Event
Accompanists: Keerthana Sankar – Violin | Athrey Nadhan – Mridangam
BN Chinmayee
Hailing from a musical family, Chinmayee was introduced to music at a very young age. She underwent initial training from Dr. Radha Venkatachalam. She has been under the tutelage of Sangeetha Kala Acharya Smt. Kalyani Sharma for over last 15 years now. She also receives advanced training from Vidushi Trivandrum Seethalakshmi Ammal and Vidwan T.M.Krishna. Her maternal uncle, Vidwan Vittal Ramamurthy, is her Violin Guru.
Chinmayee has performed in various sabhas and organizations in India and the US. She has also won several prizes and awards, some of which include "Best budding artist in the metropolitan award" from Shanmukhananda Sabha, Mumbai, "Bharat Ratna M.S. Subbalakshmi Award" from Brahmara Trust, Mysore and "Prathibhakankshi Award" from Rama Seva Mandali, Bangalore.
Chinmayee also has a Master's degree in Genetic Counseling and currently works for the Cincinnati Children's Hospital.
Keerthana Sankar
Keerthana Sankar grew up in a musical environment, learning music from her father at the age of two and able to identify ragas by the age of four. Keerthana has been undergoing vocal training from Sri Madurai R. Sundar, a premiere disciple of Sri T.N Seshagopalan, for the past 13 years and from Sri Delhi P. Sunderrajan for the past 8 years. Keerthana also started learning the violin at the age of five from Sri Jay Shankar Balan, and started undergoing advanced training under Sri Delhi P. Sunder Rajan since 2009.
Keerthana performed her vocal arangetram at the age of 15 and has since been regularly performing concerts in the U.S, Canada, and India. During the December 2013 music season, Keerthana was awarded with the "Best Violinist Award" for the sub-senior slot at Parthasarathy Swami Sabha. She has also accompanied senior artists such as Madurai R. Sundar, Delhi Sunder Rajan, R. Suryaprakash, Savita Narasimhan, The Carnatica Brothers, Kunnakudi Balamurali Krishna, and Ramakrishnan Murthy. She has also had the privilege of performing with violin maestro Sri V.V Subramanyam and mridangam maestro Sri Guruvayur Dorai. Keerthana has a degree in neuroscience from the University of Michigan and is currently a first year medical student.
Athrey Nadhan
Athrey Nadhan, from Chicago, IL started learning the art of playing the Mridangam at the age of five and is currently undergoing advanced training from the esteemed professional, Srimushnam Sri V. Raja Rao in Chennai, India. Athrey has accompanied several leading musicians including Chitravina N. Ravikiran, Neyveli Santhanagopalan, Madurai R. Sundar, Flute T.S. Shankaran, and Carnatic Music Idol Bharat Sundar.
Athrey has performed in over 200 concerts across the United States as well as in various Music Sabhas in Chennai and Trichy including the Music Academy and Narada Gana Sabha during the Music Season in December. Athrey also learns Carnatic vocal music from B.U. Ganesh Prasad and is currently a Hardware Engineer at Northrop Grumman Corporation and a recent graduate from the University of Illinois at Urbana-Champaign.

EVENT TITLE & ADDRESS
STARTS FROM
Peggy R. McConnell Arts Center of Worthington,
777 Evening St,
Worthington, OH 43085