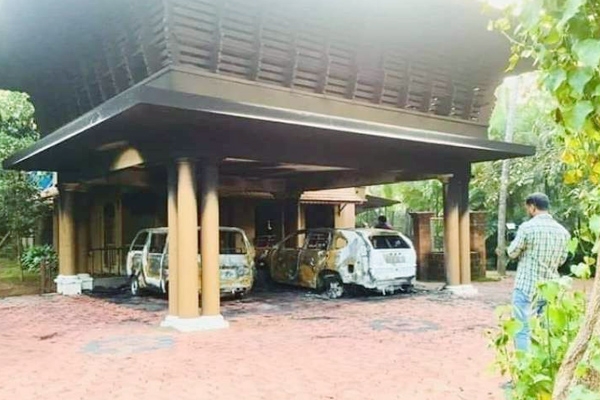 (Image source from: www.mathrubhumi.com)
Amid protests across Kerala against the entry of women of all ages into Sabarimala temple, Swami Sandeepananda Giri's Salagramam ashram at nearby Kundamonkadavu was attacked early Saturday, police said.
The attack occurred at around 2 a.m. and two cars and a scooter were burnt, they said, adding the attackers also left a garland at the ashram.
Swami Sandeepananda Giri had welcomed the apex court order allowing women in the 10-50 age group to offer prayers at the Lord Ayyappa temple in Sabarimala.
In the meantime, Kerala Chief Minister Pinarayi Vijayan, who visited the ashram, told reporters that rigorous action would be taken against the accused, whoever they may be. Their purpose was not to destroy the ashram, but Swamiji, he said.
In reaction to the attack, Sandeepananda Giri alleged that the whole responsibility for the incident was on BJP (Bharatiya Janata Party) state president P S Sreedharan Pillai, Thazhamon Madom, the kin of traditional head priests of Sabarimala temple and Pandalam Royal family, also associated with the shrine.
Director General of Police Loknath Behara said strong action would be taken to bring the accused to book. "We will not tolerate such incidents in the state," he said. However, BJP district leadership has denied any role in the attack and demanded an "unbiased" investigation into the incident.
The state had seen immense protests from devotees at various places, including Sabarimala, Pamba, and Nilakkal against allowing women of all ages to enter the shrine, where the deity is 'Naishtika Brahmachari' (perennial celibate), when the temple was opened for every month poojas from October 17-22.
At least 12 women in the 'barred' age group (10-50) had tried to trek the hills to offer prayers but had to retreat following widespread protests.
-Sowmya Sangam