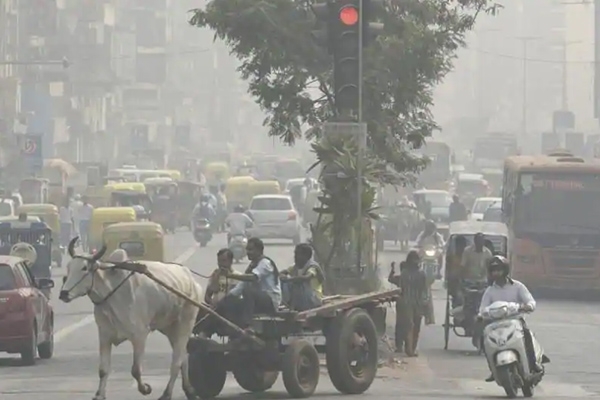 (Image source from: www.hindustantimes.com)
Air quality in New Delhi became progressively worse on Monday as pollution level breached the 'hazardous' category.
The Air Quality Index (AQI) around Mandir Marg touched 707, while the areas encompassing Major Dhyan Chand National Stadium and Jawaharlal Nehru Stadium were at 676 and 681, respectively, under 'hazardous' category. 
An AQI between 0 and 50 is considered 'good', 51 and 100 'satisfactory', 101 and 200 'moderate', 201 and 300 'poor', 301 and 400 'very poor' and 401 and 500 'severe'.
Thick layers of air pollution blanketed Delhi-NCR (National Capital Region) on Monday. Delhi's Lodhi Road area recorded prominent pollutants PM 2.5 and PM 10 in 'poor' category. 
The air quality deteriorated a day after Delhiites breathed easy on Sunday after air quality significantly improved due to surged wind speed and control measures enforced by the government.
On Sunday, a total fine of Rs 83,55,000 was imposed on violators by the teams deployed to monitor implementation of measures to combat pollution in the Delhi-NCR under the campaign.
The total air quality index (AQI) on Sunday was registered at 181, which falls in the 'moderate' category. In the morning time it was 231, which falls in the 'poor' category, Central Pollution Control Board (CPCB) data said.
The improvement in air quality can be attributed to the increase in surface wind speed to five kmph. This flushed out pollutants, an official of the Centre-run System of Air Quality Forecasting and Research (SAFAR) said.
However, it was then predicted that the air quality might deteriorate from Monday.
The SAFAR said there was a large possibility of an increase in moisture from Monday evening, which might lead to an increase in the pollution level. "The AQI is predicted to be in the lower range of very poor Monday as the atmosphere is relatively clean," the official said.
The Indian Institute of Tropical Meteorology (IITM) said fire counts in the northwest region of India were significantly less on Saturday as compared to Thursday but warned of a sharp increase in PM2.5 concentration from Monday.
The reduction in base emission is also suggestive of a more pronounced effect of control measures taken by authorities, the official said.
On Friday, the AQI was 370, which came down to 336 on Saturday, according to the CPCB. It has been found that PM 2.5 emission decreased "from 432 ton per day to 370 ton per day to reproduce the observed level with realistic met parameters, a decline in base emission by 14 percent in Delhi and nearby domain", the official said.
PM 2.5 are particles in the air with a diameter of fewer than 2.5 micrometers.
"If significant stubble burning continues on Sunday and Monday in the NW (northwest) region of India then its impact is very likely over Delhi and AQI may reach the upper end of the very poor category. The northwest wind direction may bring the influence of biomass fire on Tuesday and Wednesday," the IITM said.
Delhi authorities have stepped up endeavors to fight pollution which comprises measures like halting construction activities and controlling traffic.
There is a halt on all construction activities involving digging. Civil construction has as well been stopped in Delhi and other NCR districts, besides closure of all stone crushers and hot mix plants creating dust pollution.
The Delhi Pollution Control Committee (DPCC) has likewise administered the Transport Department and the Traffic Police to step up checking of polluting transport and control travel congestion in the region during November 1-10.
-Sowmya Sangam