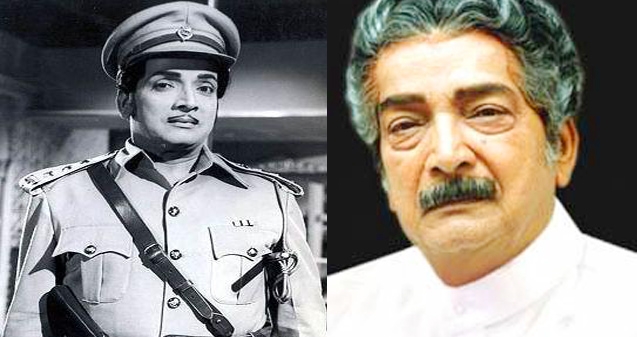 M. N. Nambiar was a film actor in Tamil cinema and had been in the film industry for more than 50 years.He moved to live with his sister in Ooty. He became interested in acting when he was 13 and he joined Nawab Rajamanikkams troupe. From then on acting became the only thing that occupied him. His first film was Bhaktha Ramadoss, shot in 1935 in Hindi and Tamil, where he played a villain.
Though he started as a hero but started donning the role of a villain - so much so that today his name is almost eponymous with the Kollywood villain. Nambiar has worked with seven generations of actors from Balaiyah to Manoj (Bharathiraajas son).His first pay was Rs.3 in the "Boys Company." He would retain Re 1 and send Rs.2 to his mother. A man of very limited needs, he has not eaten outside of his house. He is extremely health conscious.
He made quite a statement in the early 50s with his portrayal of 11 roles in 'Digambara Samiyar.' His arresting performance in films such as 'Manthiri Kumari,' 'Velaikkari,' 'Ayirathil Oruvan,' 'Thillana Mohanambal,' 'Missiamma' and 'Nenjam Marappadillai' paved way for a very successful career that spanned over five decades.A majority of the more than 1000 films that he has done is in Tamil, though he has acted in Telugu, Malayalam and Hindi, besides an English film `Jungle (with Rod Cameron, the films hero, directed by William Burke) in which he appears in a few brief scenes. The film was released in 1952. The Hindi film he acted in was a remake of the Tamil `Kanavane Kankanda Deivam.
After becoming popular in Tamil films he started his own drama troupe called Nambiar Nataka Mandram. They staged two plays — `Kaviyin Kanavu and a comedy play `Kalyana Supermarket.M.N. Nambiar is an ardent devotee of Sabarimala Sri Ayyappan. He has had a long association with the temple, and visited the shrine more than 65 years over the last half a century this has led to him being called Maha Guruswamy.His favourite films remain `Aayirathil Oruvan with MGR, `Ambikapathi with Sivaji Ganesan, `Missiyamma with Gemini Ganesan, `Nenjam Marappathillai directed by Sridhar and `Thooral Ninu Pochu with Bhagyaraj. This was the film that made him do character roles, something that he continues to do till now. He also acted as hero in two films `Kalyani and `Kavitha produced by Modern Theatres.
He has done stage, films and also serials such as `Velan. When it comes to acting, he supposedly likes all the actors but of special mention are M. R. Radha and Savitri. Both, in his opinion, were brilliant in their own way.He died in Chennai on 19 November 2008.
source : spicyonion